*Maligg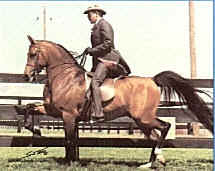 Pure Kuhailan in stain, this big, bold , powerful stallion carries some of Poland's most influential blood. Bred and foaled at Bloomerod Arabstuteri in Sweden, he sired two daughters who have been named Champions in Denmark and Sweden.
*Maligg has four crosses to the famed stallion Ofir, grandsire of *Bask++. Two of these crosses come from his sire Algier, who also boasts such greats horses as Wielki Szlem (his sire), Bakszysz and Gazella II in his ancestry. *Maligg's dam, Maritsa, is a granddaughter of Amurath Sahib, the sire of Balalajka, the dam of *Bask++ and of Amneris, the dam of National Champion *Aramus, and Aquinor, sire of National Champions *Elkin+++ and *Elkana++.
*Maligg has a very prominent way of going; when he moves, he trots above level and seems to pause in mid-air before taking his next stride. He has earned such prestigious titles as U.S. National Top Ten English Pleasure and is a multi-Champion Pleasure Driving and Informal Combination Horse. *Maligg stamps his foals with his high-set neck, will-laid back shoulder, strong hip, length of leg and motion. He has produced many National winning English Pleasure Horses.