Arabians made Affordable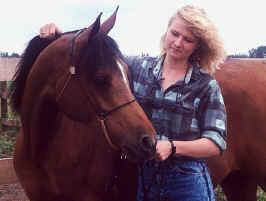 Many of you reading this article may feel unable to be a part of the Arabian experience due to affordability. The Arabian horse is not only held in high regard for it's beauty, spirit, and grace but also it's strength, athletic ability, courage and versatility. Due to this it may seem there is often more reward for those who can afford the best. It may come as a surprise to you that they can be within the reach of almost anyone.

We must accept some financial responsibility in order to properly for our four footed friends; . The excitement of the show ring, racetrack, or breeding program is something that all should be able to take part in. Few people realize the variety of options available to join this exciting and often profitable adventure.

You need not win the lottery. We have a wide variety of alternatives in an even broader range of prices. Horse for the beginner or the accomplished horse person, for those aiming for the show ring or simply enjoying a ride on a wooded path. We can help you get there within your budget.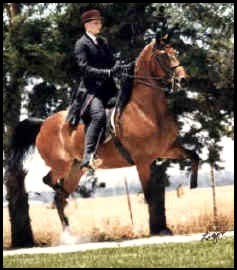 If you feel you are not yet ready for sole ownership, partial ownership may be the right choice for you. A horse may be owned by two or more partners, reducing not only the cost but the responsibility involved. This is a particularly viable alternative for those new to the experience. Having a knowledgeable co-owner can provide valuable guidance. All expense of course will be a fraction of the cost, with all of the fun. This type of ownership is not limited to show horses. Stallions as well as broodmares, may be purchased. This also applies to up and coming fillies and colts.

Perhaps you would like involvement without investing as much time or energy as full or partial ownership. Have you considered becoming involved through purchasing shares? This is a great way to enjoy ownership without the usual pressures and responsibilities. It's a good way to learn more about all facets of Arabian horses, you'll gain knowledge, meet new friends and be part of something rather than just a spectator. Surprisingly this option can be available at Excella Arabians for as little as $400.00/year and if the horse does well in the show ring there can be prize dividends.

If ownership in any form is not appropriate, leasing may be a good arrangement. The cost is reduced but the dreams can sill be realized. Leasing a superior broodmare and obtaining the service of a good stallion can result in your ideal horse for less than you thought possible.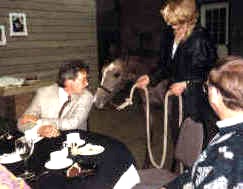 If riding and possibly showing are more to your taste, our amateur program is designed to minimize the cost and maximize the success. You do not have to own a horse. We also lease horses to participants. Lesson horses may also be utilized. Possible acceptance on a work exchange basis assures that talented amateurs have the opportunity to reach their potential at a fraction of the cost. They also gain knowledge in general, and have valuable work experience We can furnish you with more details, but plan ahead to be part of this advantageous program.

Whatever the capacity in which you choose to become involved with Arabians, we wish you all the pleasures they hold for us here at Excella Arabians and hope that we can help make your dreams a reality. There are many reputable establishments. We encourage you to contact several prior to making that important discussion.
Horses for Sale | Horse Trainers | Arabian Stallions | Broodmares
News & Information | Event Calendar | Classified Ads | Equine Links