Tips for First Time Owners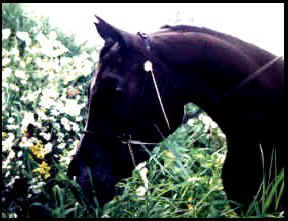 There are some important things to keep in mind when purchasing a horse. The following information is based on our own experience and is meant only to share our ideas with potential new owners. These ideas may not be useful under different circumstances or if misunderstood. There is one thing we've learned, it's that we'll never stop learning. It is your responsibility to do your own research and find methods that will work for you Once you buy your first horse, we don't want you to have any regrets. Therefore we feel you may be better prepared by considering the following questions.
Who should I buy From?

There are a wide variety of ways to find the horse that you are looking for. You can consult your local newspapers or attend auctions and farm sales. Advertisements may be found in magazines devoted to horses, and at tack and feed stores. You can contact established stables who can connect you with prospects. Word of mouth can often lead to a purchase. Whether you buy privately or publicly, do find out background on the horse, the owner and the establishment. If possible talk to others who have purchased from this person/business. It is best to buy from someone who has established a reputation for honesty. There are many horses sold by honest people. There are also some who may be less so, especially with a first time buyer. It is best when viewing prospect to have a knowledgeable person along.
Am I getting a good Deal?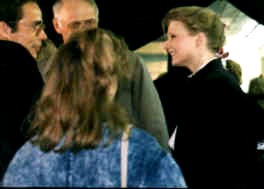 One way to tell if the price is inflated is to research bloodlines to give you some idea of what the horse's value is. Ask to see show records or documentation of any accomplishments or awards. You also need to consider how the horse's worth will stand the test of tie and any monies that may need to be spent to increase it's value. (i.e. training, breeding, showing). Discuss the horse in question with someone knowledgeable of pedigrees and confirmation. An experienced farrier or a purchasing agent are often good people to take along.
How will I know if the horse is healthy and sound?
The best way is to have a purchase examination done by a veterinarian of your choice This is really the most reliable measure of how healthy and injury free a horse is. Professional horse people often rely on the veterinarian's check when they purchase stock, and we urge you to do so as well. A few extra dollars spent initially can save you from heartbreak and a serious financial loss down the road.
Do I need to insure my horse?
This cannot be answered by a simple yes or no, since each situation is individual. Consider the cost of the horse and it's earning potential, an established breed stallion has many years of earning potential ahead, as does a race horse or show horse. You need to decide what is best for you. Conferring with someone who can provide sound advice can help. The lifestyle of your horse, risks involved (ie traveling the show circuit. or breeding mares) should be a factor when deciding.
Should my horse come with registration papers?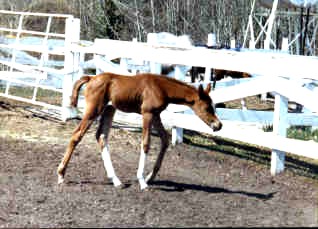 If your horse is registered with their breed association, (ie, Canadian Arabian Horse Registry), you hopefully have viewed those papers to insure it is indeed the same animal. Listed is the horse's registered owner, pedigree, (sire and dam), as well as sex, foaling date, marking and additional information. Make sure you're contract is with the registered owner, otherwise complications in transferring the horse to your name might come up. If the entire price is not paid at the initial time of purchase you may receive a copy rather than the original registration papers. Normally when the full sum is paid the original papers are surrendered to the buyer. You must remember once the purchase is complete to have the registration papers transferred, the longer you wait the more costly it can be. The previous owner must sign in order to transfer registration papers. Then they are sent to the registry with transfer fee and a new document will list you as the owner. If your horse is not registered with any breed or association it may be limited as far as showing, would be unable to race and might not be as valuable for breeding purposes, although the value as a pleasure horse is unaffected.
How do I get my horse to it's new home?
Although delivery may be included with the purchase, often it will be up to you to arrange transportation. Check your local directory to find companies that specialize in horse transporting. Make sure they have a reputation for safety and care. Many stables provide trailering, however if there is only one passenger it is likely to be more costly.
You may be able to borrow of rent a horse trailer. The driver should have experience trailering and loading horses to minimize the possibility of injuries. Check the condition of the trailer and ensure your horse is dressed for the ride. Leg wraps, a tail wrap, a poll protector and blanket may be needed. Hay and water should be provided during long trips. Make sure you have insurance coverage incase of an accident, you may also need a bill of lading for shipping livestock. If you're traveling long distance there are many bales & breakfasts that offer you and your horse accommodations.
Where should I board my horse?
This depends on the horse and what plans you have for the future. If you have a broodmare or young stock you probably won't need the facilities a show horse or breeding stallion should have. If your horse will be kept outside ensure it has shelter with bedding, and has access to clean water at all times, *heated in winter, plenty of room, adequate fencing, a good feeding and worming program and proper health care. Regular attention from a farrier is a must. If you decide to keep your horse indoors a large box stall with amply bedding is best. In addition it should have daily exercise or turn out when the weather permits. If you plan to ride it is best the facility have an outdoor riding ring and an indoor arena for foul weather, especially if you plan to show. If necessary, the arena should be heated. Dust should be kept at a minimum. Wash racks for bathing and general clean up are hard to do without. Grooming stalls eliminate the necessity of tacking up in your stall and the risk of injury to do so in the aisle. Tack boxes or heated tack rooms are desirable. A hot walker or treadmill can help with conditioning and a lunging area is very handy. Riding rails are a real treat during nice weather. Select one that provides personal care, stringent health standards, a superior feeding program, and is clean and well maintained. There are varying rates, but the more specific your needs, the more likely you will require a costlier stable.
What else should I be aware of ?
You will need to find a good veterinarian. Choices may be limited in a rural area. Our advice is to ask others who need a veterinarian's services. In addition to the regular health care provided by your veterinarian, have him advise you on an effecting worming program and adhere to it religiously. You will need to contact a farrier to care for your horses feet. Shop around. Some horses, (i.e. broodmares, young stock), need only regular trims. Others may need shoeing, quite specialized depending n conformation and what type of training or showing they will be involved in. You will need a supply of equipment, tack and other products. If you own a broodmare, do you have access to a quality stallion that will be a suitable cross?

Where can I get help or advice when I have a problem?
Try to find some knowledgeable you can trust to provide guidance. Vet's, farriers and other people you deal with can be helpful. Associations, organizations and magazines can provide supports and direction. Knowledge comes with time and experiences, as well as an open mind. Any professional horse person you ask is likely to be willing to help. The more ideas and opinions you hear, the better able to you are to make good decisions.
Recommended Reading;
The Whole Horse Catalog; Steven D. Price, Paperback
Horses for Sale | Horse Trainers | Arabian Stallions | Broodmares
News & Information | Event Calendar | Classified Ads | Equine Links